Komme tilbake
The offices of tomorrow: Greater flexibility with fewer square metres?
25 desember 2021
The increasing prevalence of home office work, the diversity of collaboration spaces, real estate prices: many factors are now forcing companies to rethink the way they collaborate and re-organise internally so as to increase employee team satisfaction and reduce office space while retaining that which is necessary. In the future, each square metre of office space will be useful for the company – or not.
The company's office space: It is essential to know the real needs
In terms of space, there is no legal regulation that imposes a minimum area for companies. However, it is assumed that at least 11 m2 and ideally 15 m2 are required for the well-being of an employee in the office. The working environment and the premises offered have a direct influence on employees' loyalty to the company and contribute to a large extent to their sense of well-being at work. However, regardless of the square footage, it is important to know how the space is used to determine what is really needed. It is crucial that the room design is suitable for the type of activity performed.
«Before the health crisis, the average office vacancy rate was 40%.»1
There are many reasons for this vacancy rate: business travel, vacations, meetings, sick leave, etc. Some companies were already working with telecommuting, but the health crisis has fuelled an unprecedented increase in home office work. Most companies were forced overnight to continue their home office operations and to quickly organise and equip themselves. Some industries, such as banking and insurance, saw a 64% increase in home office work during the initial lockdown.
And this trend toward home office working will certainly not diminish in the coming years. It will become an integral part of our working habits and the flexibility offered by this way of working is highly appreciated by employees. Two-thirds of employees today state that they would like to permanently work from their home office at least two days a week.2
For many companies, the future lies in finding the right balance between home office and shared office work. To accomplish this it is essential to ask the right questions in advance. What types of space do I need? Fewer individual offices? More places for sharing and collaboration? What are employees looking for when they come into the office today?
Costs for offices space, the second largest source of expenses in an organisation
After personnel costs, those for office space are the second largest cost factor in a company. In major European cities, the price per square metre can sometimes skyrocket, as the following 2018 map from BNP Paribas shows.3 For example, the rent per square meter in a city like Munich is €444, while in Paris it is €850, and in central London as high as €1400.
Source: BNP Paribas – Rapport EOM – Real Estate of Changing the World – 2018
With space rental representing a real cost, more and more companies are rethinking their space optimisation strategy to retain only those spaces that are useful and suitable for collaboration. Bearing in mind the fact that an average of 11 m2 per employee is required, the annual costs for office rent can increase very quickly. A company with 10 employees should reckon with premises of about 110 m2 if only office space is taken into account. Accordingly, if it settles in Munich, the annual rent will be around €49,000, in Paris €93,500 and in London over €154,000. It should also be noted that these figures only take office space into account. Collaboration spaces (meeting rooms, huddle spaces) and living spaces (break room and restaurant) must also be included. As a result, the question of optimising square footage is more prevalent today than ever before, and providing a shared-office organisation is a solution increasingly adopted.
«Organising home office and desk sharing can deliver space savings of up to 40%, depending on the variation in desk sharing rates (between 10% and 50% in the example).»4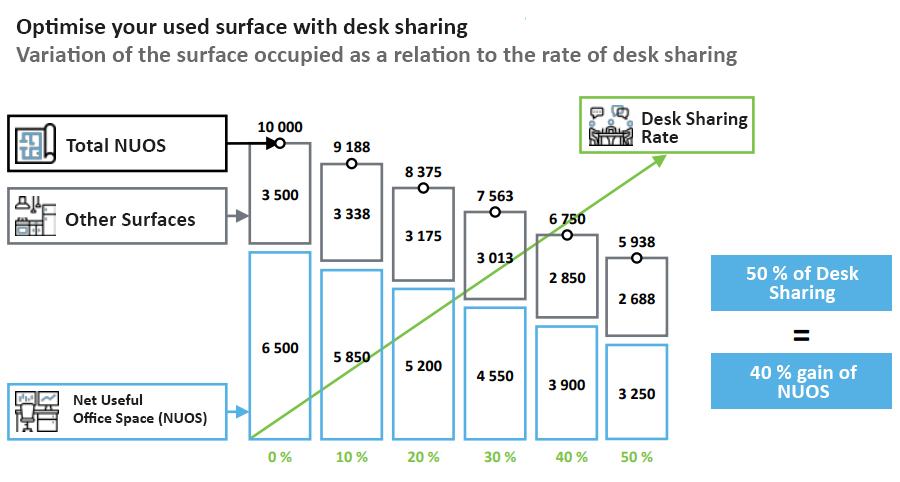 Source: Deloitte «What long-term structural impact will the changing forms of work (Future of Work) have on the commercial real estate market?» –  June 2020
Shared offices: Work with the right tools
To help managers make the best decisions when it comes to employee well-being and corporate strategy, there are hardware and software tools that facilitate the day-to-day implementation of a space allocation system and assist with decision-making through the data provided.
The ROOMZ Desk Sensor is an excellent tool that informs you in real time about the occupancy rate of a particular office, providing you with long-term data to show whether a room is being used properly or not. Similarly, sensors for small collaboration spaces (Room Sensor and Huddle Sensor) tell you whether employees really need the space or if it would be better to reconfigure it for better utilisation.
The aim of the software is to provide easy-to-use tools that place time management in the hands of the employees. Our myROOMZ web application makes it possible to find and reserve an office with just a few clicks in a very intuitive way. Users can also view floor plans of the rooms to find an available workspace at a glance.
—————————————————————————————————————————————————————–
A global rethinking of office space is ongoing today to facilitate the pooling of skills (increase in open spaces and collaboration at the expense of unused offices) on the one hand, and the reduction of fixed costs on the other. Investing in the right tools today to adopt the best strategy for your structure can help you develop a long-term organisation that best suits your needs.
[1] Cowork.io – What is Flex Office or Hot Desk? – 2019
[2] SLEAN – Study based on 637 people – 2021
[3] BNP Paribas – Rapport EOM – Real Estate of Changing the World – 2018
[4] Deloitte – What long-term structural impact will the changing forms of work (Future of Work) have on the commercial real estate market? –  June 2020