Experience Box
Optimize the usage of your meeting rooms.
Experience myROOMZ
Find and book available workspaces.
Begin your Experience
Starting today with ROOMZ!
Experience Box
All you need to start optimising the usage of your meeting rooms

1 ROOMZ Display
Wall mount included
1 ROOMZ Sensor
Room sensor
Help & Support
Up to 1 hour included
Subscription
1 year included
No cabling, installed within minutes
ROOMZ is the most straightforward and easiest-to-deploy solution to support and create the agile work environments of the future. Right after installation, ROOMZ products will help you to maximize the usage of your shared spaces, while increasing work efficiency and collaboration.
ROOMZ Display
Provides the right information at the right time, right where it's needed. Puts an end to guesswork in corridors and lets employees book available spaces right on the spot.
Learn more
ROOMZ Sensor
Automatically releases rooms if no one shows up (ghost meetings), while creating valuable insights based on the effective use of your spaces.
Learn more
Experience myROOMZ
An easy-to-use web application to find and book available workspaces.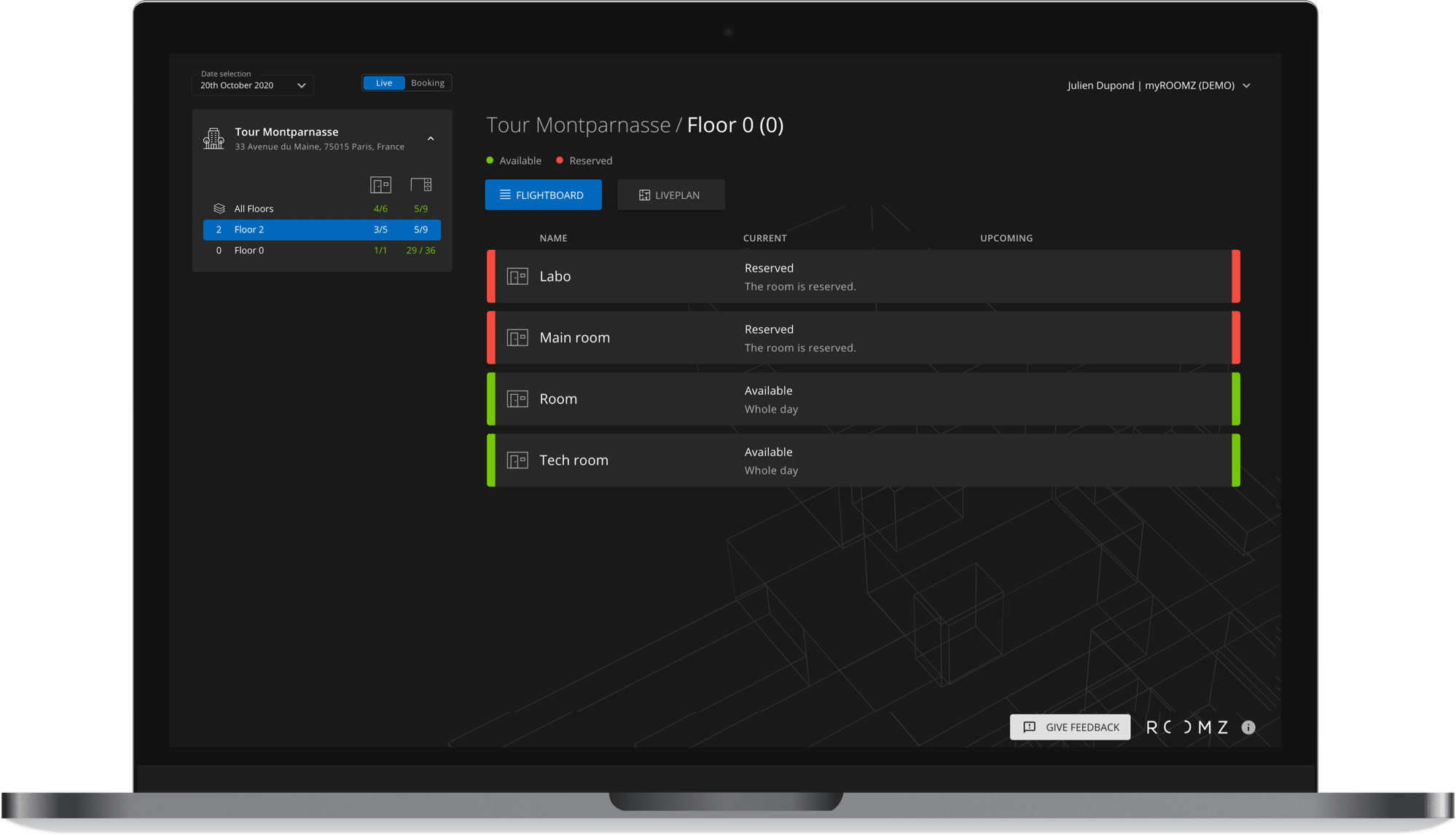 Find and book available spaces
Shared desks
Meeting rooms
Huddle spaces
Better manage your ressources
The post-COVID office experience will be different. Reliable occupancy data can help to drive objective and evidence-based decision making. Due to social distancing restrictions, buildings may not be used at their full capacity during re-entry of the workforce. The less resources there are available, the better these need to be managed.
Social distancing
Occupancy rate
Cleaning
Try now
Begin your experience with ROOMZ today !
1) Manufacturer's suggested retail price (MSRP), excl. taxes
Full price calculated with MSRP price of all components contained in the box, including technical support
Offer subject to availability and limited to maximum one Box per customer
* required fields